Brazil – Fire At Reduc Refinery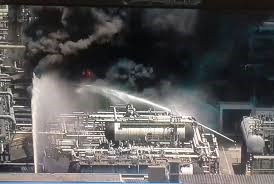 Petróleo Brasileiro SA (Petrobras) has extinguished a fire at its 239,000-b/d Duque de Caxias (REDUC) refinery in the Baixada Fluminense area of Brazil's Rio de Janeiro state.
On the afternoon of June 15, the REDUC refinery's brigade quickly controlled and extinguished a fire that broke out in one of the refinery's distillation units, Petrobras said.
The fire, which was caused by a leak in equipment that pumps fuel oil, did not result in any casualties, and other units at the refinery continue to operate normally, the operator said.
Petrobras said technical teams are continuing to monitor the impacted area, and a further investigation into the fire remains under way.
While Petrobras confirmed the affected unit has been safely taken offline, the company did not disclose details regarding the current status of production at the refinery as a result of the incident.
In addition to its production of asphalt, naphtha, ethane, propane, propylene, paraffin, lubricants, LPG, coke, and sulfur, the REDUC refinery produces diesel, gasoline, and jet fuel for markets in Rio de Janeiro, São Paulo, Espírito Santo, Minas Gerais, Bahia, Ceará, Paraná, and Rio Grande do Sul.